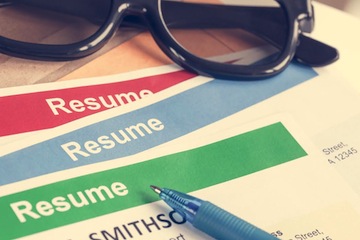 Whenever you have the chance write a cover letter or resume, make sure you follow these tips on how to make confident cover letter and resume!
When writing your resume you should always tailor it depending on what job you're applying for. It wouldn't be the best decision on your part to send the same resume to every job you're interested in. Same goes for your cover letter. Before you start either, make you sure you take the time to research the company and position you will be applying to. That way, when you begin describing how you will be able to apply your skills to the position and overall company, you'll actually know what company you're talking to and what they'll expect.
When it comes to stating your skills and how the company will benefit from them, be sure to be confident and direct. When employers look through your cover letter and resume, it's not for very long. You want to let the employers know what you will bring to the table and your abilities that you will apply to your daily work. Also it's important to show some enthusiasm, saying that you're excited for this opportunity, how you would love to be apart of the work environment. This shows that you have a passion for this certain line of work and that you are ready whenever they are. Speaking of passion, it's also good to let out some inner devotion towards this career of choice. This let's the hiring managers know that you mean business and you'll be a hardworking candidate and you are going to enjoy what you're applying for.
Proofreading is the most annoying, but the most crucial step of any professional writing, including resumes and cover letters. Grammar and punctuation errors are obviously a no-no, because if they see those mistakes, they will think you didn't put much effort into your work. Not a good first impression to make. It's also good to use the correct phrases. My advice would be to avoid saying things like, "I think…", "I guess…", "I believe…" and other passive statements. You need to show that you're strong within your wording. Say, "I will…"! Don't lower yourself, be positive and courageous! But also keep in mind to not over do it. Don't over-flatter yourself or the company. It will make the hiring manager wonder if these skills are even true and no one really likes a suck-up. Be short, and be sufficient with what you say in your resume and cover letter.
Take these key skills and apply them to your cover letter and resume and you'll come out with a very confident and strong resume! If you need more help with resumes and would like to submit your resume in to The Wilson Group, visit our website.