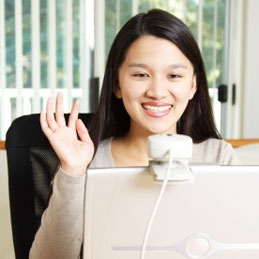 Online Job Interview Preparation Tips
Excerpt from the "experts" in interviewing: www.everydayinterviewtips.com
As the internet plays such a critical role in our lives, it also comes into play for our job hunt. Not just for researching target companies or recruiting for open positions, more hiring is done via virtual interviewing than ever before. It saves on travel time and money and it produces accurate results. So, what should you know about online interviewing to be successful? We went to the source, Everyday Interview Tips, to get the scoop. Here is your success plan for interviewing online:
•Prepare Your Workplace
Most likely you are going to be sitting in your home while you are being interviewed. It is very important to prepare the surrounding area where the interview will take place. Remove any posters, artwork or clutter that may reflect poorly on you. Get a paper and pencil ready so that employers do not have to watch you leave your screen at any time. Also make sure that any pets or people you live with are out of sight, and that noise is kept to a minimum.
•Make Sure Your Webcam is Hooked Up Properly
Fumbling with your camera makes you seem unprepared. It is a good idea to practice web chatting with a friend or family member to make sure your webcam is working properly.
•Dress for the Interview
Even though the interview is taking place in your home, it is still a good idea to dress for the interview as though you were coming in to the office. Employers are going to be judging how you are dressed (even if they do not realize it), and you want to make sure you leave the best impression. You should be completely dressed up – including nice pants and shoes – because you never know when the camera may fall or you need to stand up. Plus, you don't want to be distracted with thoughts that you are actually half dressed.
Online Interview Tips
•Speak Clearly
Webcams do not have the greatest sound systems. Make sure you speak loudly and clearly without any mumbling. Mumbling will not be picked up by the webcam and the employer is going to miss many of the important things you will say.
•Keep All Other Programs Turned Off
The last thing you want is for someone to send you an instant message during your interview. Just as you wouldn't want your cell phone to ring, you don't want chat services interrupting your meeting, or other software programs causing your computer to slow down, freeze or crash.
•Facial Expressions and Appearance
Without the interviewer in the room, you might forget that you are being watched, and your facial expressions play a role in your interview success. Make sure you smile and sit up straight just as though you were interviewing in person.
•Feel Free and Ask for Clarification
Your interviewer is going to be in a busy office, and there may be times that you cannot make out what they are saying. Don't try to answer a question you could not hear or could not understand. Ask for clarification. The interviewer recognizes that webcams can be hard to hear, and it is better for you to admit that you could not hear their question than to answer a question incorrectly.
Success in an Online Interview
Basic interview tips still apply to online interviews. Make sure you research the company, provide positive answers, etc. Online interviews also require some extra preparation with the setting and the equipment. Make sure that you are well prepared for you online interview and you will perform as well as an in-person interview.
Read more: http://www.everydayinterviewtips.com/interview-tips/skills/online#ixzz1km1zic3n