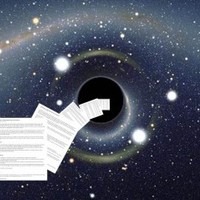 "I've sent my resume to a dozen companies weeks ago and I haven't heard from one."
If you've been in the job market or know anyone in the job market, you've heard this statement. Your resume has been sucked into the infamous HR "Black Hole". Today we'll explore how the black hole is created, and some ways you can rescue your resume from the abyss and get it in front of the hiring manager.
Big companies can get hundreds of resumes for a position. If the company has several open positions at one time, multiply that number. Simple math will tell you that the handful of recruiters in a typical HR department simply can't process thousands of resumes each month. That's why most companies use an applicant tracking system (ATS), which automatically parses incoming resumes and converts them into database records.
When searching for candidates, corporate recruiters will plug in keywords related to the particular job opening, and resumes containing those keywords will turn up in the search. If your resume turns up toward the top of the list, it has a chance of being viewed.
How can you increase your chances of turning up in that search, or perhaps bypass the black hole completely?
Keywords are key 
The ATS will return results that contain the keywords the HR person has entered. Be sure your resume contains plenty of words that relate to the particular job you're seeking. Think like an HR person – if you were searching for candidates for this job, what terms would you use? Also, try to include variants of those keywords. For example, if you are applying for a copywriter job, include copywriter, copywriting, writer and writing.
One caveat – be sure the words you use make sense in the context of your resume. If you include a block of text at the top that reads "analyst analyst analyst analyst analyst", you may show up at the top of the results for an analyst search, but it's going to look ridiculous to the HR person when they actually open your resume.
Format is important
Always submit your resume in Word, plain text (.txt) or rich text (.rtf) format. DON'T submit a PDF. A PDF is basically a snapshot of your text document. It's visible to the human eye, but an ATS, which is designed to parse text, won't recognize any information on a PDF document. It will most likely attach your resume to a blank database record, which doesn't do you any good.
Also, keep your resume formatting simple. An ATS will look for certain patterns when parsing your resume. It will assume that the first block of text is your contact information, and then it will look for common headings like "education", "experience", and "skills." If you have a complicated format with graphics or pull quotes, there's a good chance your information will either go into the wrong database fields or not be imported at all. The best format for an ATS is a simple, straightforward, chronological resume.
So remember, don't let your resume get trapped in the black hole! Remember you are writing for a computer AND Human Resources.