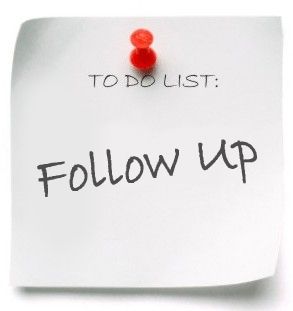 Following up on an interview can be tricky business. You want to ensure you stand out among the other applicants, but not for the wrong reasons. Here are three ways to follow-up after an interview that won't get you on the block list.
1. Send a thank-you note. – This should be done no matter what. Whether it is a handwritten note sent the next day or an email immediately following the interview, a thank-you note goes a long way. It shows you are interested and thankful for their time. Keep it brief and sincere.
2. Share a relevant industry article. – In order to keep up the engagement and help the recruiter remember you, try sending him or her a relevant article. Make sure the article is from a credible source, is current, and pertains to something discussed during the interview. This keeps the lines of communication open and shows you have industry knowledge.
3. Ask to connect on LinkedIn. – You're looking to be part of this organization. Connecting on LinkedIn shows you are ready to take the next step. When you send the request, be sure to write a customized note so they know who you are and what your purpose is. If you can, provide an incentive for them as well by offering to connect them with a relevant industry contact of yours. It's all about who you know.
While doing these follow-ups doesn't guarantee a job, they can help set you apart from the rest. Showing you are eager to be part of their team as well as knowledgeable about their industry is imperative in the job-hunting process. If you need help with finding the right career match for you, visit our website and set up an appointment. We can help you every step of the way!